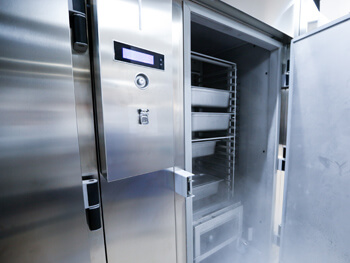 At EMCOR Services New York/New Jersey, Inc., we understand that protecting the perishable inventory in your refrigerators, freezers, and walk-in coolers is critical to your business success.
That's why our comprehensive refrigeration services focus on prevention of most malfunctions.
Whether your commercial refrigeration systems and ice machines are small and simple, or large and complex, we can design, install, retrofit, repair, and maintain them.
Refrigeration Fixtures for Every Application
We design and install all types of commercial refrigeration systems, including walk-in coolers and dairy cases. We can meet every case requirement, from supermarkets to fast-food salad bars.
And if you require cubed, crushed, or flaked ice, we offer a full line of high-efficiency ice-making equipment.
Our association with the largest refrigeration fixtures companies enables us to provide you the best value and quality possible.
Helping Protect Your Investment
Because continual maintenance is imperative to safeguard your assets, we also offer regularly scheduled preventive maintenance inspections.
Using leading-edge performance monitoring tools, our maintenance services help minimize downtime, costly repairs, and inventory loss that could result from refrigeration system failures.
Quick Coverage for Emergency Needs
If your equipment breaks down, our commercial refrigeration repair and maintenance experts dispatch 24/7/365—to get you up and running as quickly as possible.
Contact us today to see what our commercial refrigeration services can do for you.