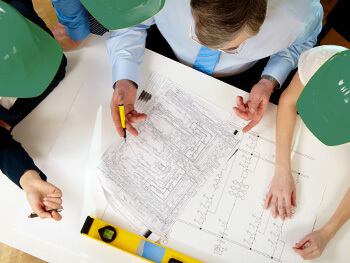 Proper engineering is vital for your facility systems to achieve intended results, including occupant comfort and manufacturing process reliability.
That's why our engineering solutions begin with conceptual design services, to clarify your requirements and goals.
Engineering to Promote Construction Excellence
Our turnkey engineering documents and construction specifications concisely describe practical and innovative solutions, while keeping in mind your up-front, operating, and projected maintenance costs.
We help ensure that your:
Designed systems can be constructed and installed per the original design intent
Existing commercial HVAC, mechanical, and facility systems function properly and more efficiently
New facility or systems are planned correctly through development of a basis of design document and construction budgeting
Construction Observation to Help Build Confidence
Whether you hire us on a design-build basis, or you hire another firm to construct our design, our services help:
Reduce your burden during the construction phase
Continue building confidence that the design's intent is being met throughout construction
You can also count on our extensive construction engineering, facilities commissioning, and ongoing service experience to help ensure your solution will last.
To discuss how our engineering services can benefit your next project, contact us today.